| | |
| --- | --- |
| | March 16-22, 2013 |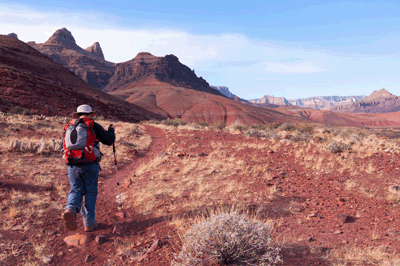 "Only those who will risk going too far can possibly find out how far one can go." - T. S. Eliot
The internal conflict is palpable when saying to your son, "We need to climb that two-story block of schist," or, "We're going down this massive rubble pile." It's more unnerving to watch him actually do these things. Even though I'd hiked this route, before, had been through Papago Creek in both directions and knew the obstacles, I couldn't shake the feeling that I might have made a mistake by leading Matthew to this risky section of trail. But here we were, on the Escalante route about the climb the Papago Wall and then descend the Papago Slide. There was no other viable option. To go back the way we came would encumber no less work and other equally risky challenges. No, turning back was not an option. We had to face the risk and the fear, and go forward.
Three days before, Matthew, Dennis Foster and I had car pooled from Flagstaff to Grand Canyon to begin this hike. It was a Saturday in March in northern Arizona. One week earlier, the last major winter storm of the season had blown through and deposited about a foot of snow. Five days of temperatures in the 40's and 50's had cleared the roads and sidewalks but the steep sheltered trails off the South Rim would still be snow-covered in the Kaibab, Toroweap and, possibly, in the Coconino. We stopped first at the Grandview trailhead to deposit my Rodeo in the parking lot for our eventual exit from the canyon seven days hence. After transferring our gear to Dennis's truck, Matthew and I took seats in the front cab for the short drive to Lipan Point.
Tanner trail leaves Lipan Point just east of the parking area and begins an immediate and steep descent from the rim. The snow was patchy near the top but soon rendered the trail a slick course for long sections. So, we stopped to allow Matthew to put on my Kahtoola micro spikes. The additional traction gave him the confidence to continue down trail at more than a crawl. We weren't in a hurry that first day. Our primary objective was the Redwall overlook, a fine location to pitch a tent and just four-and-a-half miles from the rim. The first third of that distance, we would descend more than 1,700-feet to a saddle overlooking Seventyfive Mile canyon. This knee-jarring plunge would be the first major challenge of the week.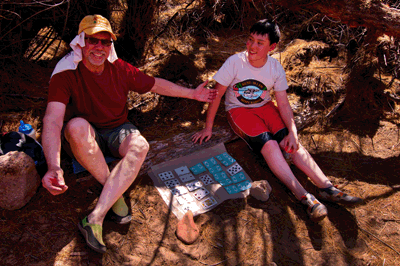 We stopped for lunch at a large flat rock in Tanner creek bed, not far downstream from where the trail re-enters the creek bed for the last time. It's a place that offers shade and good rocks for sitting, two important qualities of any lunch location in Grand Canyon. After the fifty-minute break, we resumed the trail and soon arrived at Seventyfive Mile saddle. We didn't pause long before continuing along Tanner to being the long, undulating contour below Escalante and Cardenas buttes. By 2:00 pm, we were crossing through the unnamed drainage between the formations. Another thirty minutes of hiking brought us to the ridge below Cardenas and, over the course of the next ninety minutes, we made our way to the Redwall overlook. Several tents were pitched on the field immediately north of the descent route through the Redwall so, Dennis, Matthew and I went over a small rise to the east where we found a wide open location to set up camp for the night.
The next morning at breakfast, Dennis greeted us with a hearty, "Happy St. Patrick's Day," and offered to share his Pop Tart with red and--in accordance with the holiday tradition--green sprinkles. It was a welcome and tasty way to begin our second day in the canyon. The itinerary included getting to the river and making camp on the broad debris fan just downstream from Tanner Rapids. The initial, steep descent through the Redwall required caution and patience. Dennis hiked ahead to find a good place in the shade for a break. Matthew and I took our time finishing this tricky section of trail and caught up with Dennis at 9:30 am. After a short break, we began a long, gradual but constant descent to the river. In many respects, the lower half of Tanner can be the most difficult for a first-timer. The route through the Redwall can be tough on the knees but the constant downhill to the river that follows is mentally tough. It requires constant attention and can be tough on the feet. Initially, the plan had been to leave the trail just at the place where the final descent to the creek bed begins to follow a more direct route to the camp site. But after some discussion, we decided to stay on trail. We ended up covering an extra half-mile or thereabouts, but the walking was easier.
It was just after 1:30 pm when we reached the river camp on the Tanner debris fan. Matthew took a load off and relaxed on a plank bench in the shade while Dennis and I wrangled lunch. The first two days of the trip had been challenging for Matthew but, now at camp, the rest of the day could be devoted to relaxing and recovering. The next day, Monday, would be the shortest of the week. All we had to do was move two-and-a-half miles downstream to Cardenas. That wouldn't take more than a two or three hours of relatively easy hiking on the Escalante Route. Calling the well-worn track connecting Tanner rapids overland to Hance rapids a "route" is, in some regards, a misnomer. The Escalante route is as clearly defined as the Tonto trail or any other South Rim trail outside the corridor. The two reasons Escalante is considered a route are two obstacles near the mouth of Papago Creek, obstacles that were still a couple of days in the future when we settled in to our sleeping bags on our second night in Grand Canyon.
We had only encountered four hikers during the two-day descent along Tanner to the river. But it was mid-March with many school districts across the country on spring break and any remaining sense of having the canyon to ourselves was about to change. We left camp at 8:32 am on Monday morning, March 18. A half-hour later, we took a short detour to explore the purported site of an old mining operation run by Felix Lantier. There really isn't much left on this low-lying stretch of beach to support speculation about an old mining operation. The spur trail off the Escalante route terminates near an old piece of hardware which, I suppose, could have been used by Lantier. Of the wooden planks and other debris on the beach, it's hard to know what's been deposited by more recent floods and what, if anything, has been there for decades. Resuming the trail, we noticed a private river trip coming around the bend on its way downstream to Unkar. I stopped to take some photos, which gave Dennis and Matthew an opportunity to relax a bit.
We arrived at Cardenas beach at 11:00 am. This little stretch of Shangri la appears to be a popular river runner camp. Numerous tent sites are carved from the tamarisk grove lining the river. These sites are connected via trails and a soft, sandy beach that serves as a communal gathering area. We enjoyed our day and night at Cardenas, immensely. In-between the usual chores related to setting up camp, we took breaks to soak our feet in the muddy Colorado River, nap in the shade and play some games. Dennis brought a small cribbage set and Matthew brought a deck of playing cards. In a peak of poetic justice, Matthew skunked Dennis in cribbage and Dennis dominated Matthew in a heated game of "Garbage." Back in 2008, Joe Sturm and I had a visit from a ringtail during a night at Cardenas. The only wildlife Dennis, Matthew wand I encountered this trip was a large rodent of some sort. It looked like a rat to me. Dennis thought it was a mouse. Well, if it was a mouse, it was the world's largest.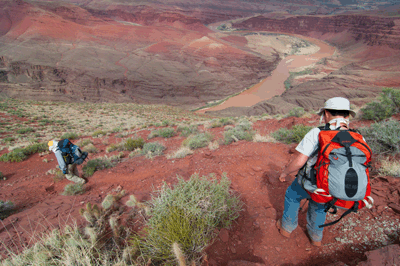 Day four dawned cloudy and cool. This was a good thing as our itinerary included a six-mile trek from Cardenas to Escalante Creek. Including breaks, we would probably be on the trail between six and seven hours. The cloud cover would keep temperatures down and protect us from the glaring sun. Matthew and I broke camp at 7:00 am, returned to the Escalante route and began the long, gradual climb to Hilltop Ruin. Dennis said he would meet us, there. Forty minutes later, Matthew and I arrived at the stone-walled enclosure at Hilltop. About fifteen minutes later, Dennis showed up. We took some photos and explored a bit, finding a marker embedded atop a stone outcrop forming the highest point on the hill. The marker read, "Hilltop 1991." As interesting as this site was, we had a long way yet to go and didn't want to delay too long. So, we saddled back up for the two-hour hike south to the head of the nameless valley west of Cardenas.
It was 9:50 am when we stopped for a rest break in the drainage a the head of the valley. During this stop, we met a group of four young men hiking west-to-east along the Escalante route. They had come from our destination for the day, the beach at the mouth of Escalante creek. Resuming the trail, we begin the tedious traverse along the southern wall of the valley, following a well-worn path just below the Tapeats. The first bit just after the drainage crossing included a lot of boulder hopping, which Matthew undertook with due caution. We stopped for lunch at the end of the ridge defining the southern wall of the valley, just above the spot where the Escalante route begins dropping into Escalante creek. It was 1:10 pm and the clouds were still shielding us from Sol's glare.
With the most difficult part of the day behind us, we made relatively quick work of the last two miles to Escalante beach. Twenty minutes was all we needed to make the descent into Escalante creek bed. After a short break, we exited Escalante creek to follow the cairned route bypassing choke stone and dry fall obstacles. From this elevated route, we could see another couple beginning the descent into Escalante creek along the route we'd just hiked. After about forty-five minutes of up and down through a couple of minor drainages, we returned to the creek bed and polished off the remaining trek to the river. We arrived at 3:10 pm and walked downstream to find a camping spot in the shade of tamarisks on a wonderful little beach. We shared Escalante beach with at least two other groups that evening. It was such a comfortable night that we chose to forego the tents and sleep under the stars. While I generally prefer the comfort of a shelter, I slept as well that night as any other on this trip.
The following day, we made a slight adjustment to our plan. The itinerary called for another relatively short day, hiking just three miles to Hance Rapids. However, the day after--the sixth of the trip--called for a longish six-and-a-half mile hump from Hance Rapids to Hance Creek. In addition, we'd be carving out an 1,100-foot gain in elevation. It didn't take long to decide to tack a bit on to our day five itinerary. When we left Escalante beach at 7:39 am, the plan was to head to Hance Rapids where we would have lunch and take a long siesta. Late in the afternoon, we would leave Hance, pick up the Tonto trail and hike for about an hour before making camp. To avoid having to pack too much water for the dry camp, we would prepare our planned dinner meals for lunch at the river and eat sandwiches for dinner, later that evening.
But I'm getting ahead of myself by not talking about one of the great treats this day offered, hiking the Seventyfive Mile canyon narrows. The curved and sculpted narrows in this side canyon are wonders few people are privileged to experience. The contrast with the wide open valleys of Tanner and Cardenas is astounding. It's difficult to imagine that, just one day earlier, we were treated to grand vistas in all directions on the high track of the Escalante route. Upon entering Seventyfive Mile, the world literally closes all around, becoming narrow and confining. The walls extend more than one hundred feet from the bed of he creek to the rim. Yet, the width of the canyon is less than twenty feet in places. As we approached the place where the Escalante route enters Seventyfive Mile, we saw a group of three hikers ambling downstream toward the river. They looked so small and the notion that we would be following in their boot steps less than an hour into the future, made the moment seem almost surreal.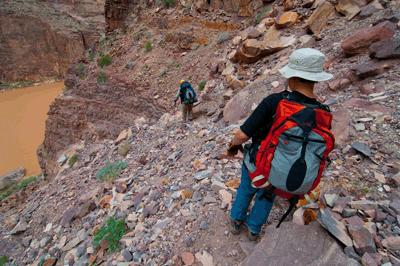 We took our time in Seventyfive Mile. At one dry fall, I set up my camera and tripod to shoot some HDR sets. This required a bit of staging to position Dennis, Matthew and myself just right for the shots. It made for a fun diversion from the day's work. Besides, none of us was in a hurry to get through these narrows. It was easy hiking in a strange and oddly captivating place. Soon enough, we stepped out of the canyon and into the sun at the Colorado. During the short break that followed, a private river party arrived to run Nevills Rapids. I rushed to the water's edge to shoot the scene, just in case something of significance happened. I returned to my traveling companions and we continued the trek downstream. The route from Seventyfive Mile to Papago contours at or just above river level. It's not the fastest track in Grand Canyon but isn't terribly difficult. Shortly after 11:00 am, we arrived at the mouth of Papago creek.
Our options for continuing downstream were limited, at this point. Walking up Papago creek bed isn't an option. A ten foot vertical dry fall at the mouth of the creek prevents easy access. On the downstream side of the creek, an imposing Vishnu Schist fortress gives a strong impression of being impassible. With no obvious route past this obstacle, the best option is to go high, to climb up and over the solid stone barrier. Fortunately, there are enough steps and hand holds that climbing the Papago Wall is doable without ropes or technical gear. It's a two-stage climb, with the initial forty-to-fifty foot ascent being easier (in my opinion) than the last ten feet. Once atop the schist, there is a short trek downstream to the edge of the Vishnu outcrop. This vantage point offers a tremendous view of Hance Rapids and the beach where we would be having our midday meal. This perch also offers an impressive and somewhat intimidating view of the Papago Slide.
A long ago rock fall created this rubble pile. The debris fan is fairly narrow and contained. It extends some two hundred feet to the river, is very steep but is, nevertheless, the best available option to reach the Colorado from atop the schist. Over the years, traffic along one route through the boulder field has produced a well-defined pathway with cairns marking critical junctures. Still, this is a rubble pile and, as such, is prone to instability and movement. You can't blindly trust the rocks will hold still. For someone navigating these obstacles for the first time, it doesn't really matter that hundreds of people have successfully run the gauntlet. The Papago Wall and Papago Slide can be quite intimidating and for good reason. Real risk is involved. But if one uses caution and good judgment, they can be done, safely and successfully.
This was our moment of truth. Matthew was clearly intimidated by the climb but, with some assistance, he scaled Papago Wall with relative ease. It was the steep, downhill negotiation of the Papago Slide that really got his attention. It got mine, as well. Saying to Matthew, "We need to do this," went against all my instincts as a parent, with one significant exception. There is something to be gained by facing and overcoming our fears. Life is not a risk-free proposition. Just leaving the house each morning exposes us to risk. Some risks--a drunk driver crossing the center line--are beyond our control. But there are many risks over which we do have at lest some control. Some risks, such as the Papago Slide, can be managed. The knowledge to read the terrain and decide which route to follow empowers us to minimize the risks associated with bypassing obstacles on a hike in Grand Canyon. As a parent, I want my son to be able to face his fears and recognize that he has the mental and physical tools to overcome most obstacles he will face in life. Going down the Papago Slide wasn't just an obstacle we needed to overcome to get from point A to point B. It offered an opportunity to teach a life lesson, to impart wisdom my son could apply every day of his life.
Later when we were eating a Mountain House chicken teriyaki meal at Hance Rapids, Matthew and I talked about what we had just accomplished. I was so proud of him for doing this hike, for facing and overcoming the obstacles at Papago Canyon. I wanted him to know how I felt and, more important, I needed him to see that he has the courage and strength to overcome any obstacle life may present. The challenges we faced that day are a reminder that the accomplishments we most value, are those that demand the most of us. It's heady stuff for a twelve-year-old, to be sure. But life isn't getting any easier and it's not getting any safer. More will be asked of his generation than will be asked of mine. It may not be fair but it is reality. Those who have the courage to face and overcome life's challenges will shape the future.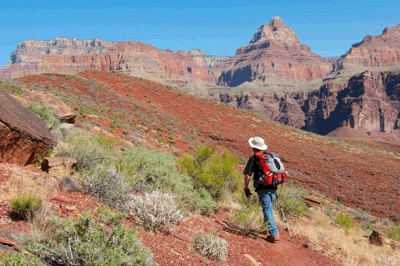 At 4:30 pm, we departed Hance Rapids and left the Escalante route behind. The previous two days had been defined by constant change in scenery as we worked our way downstream from Tanner Rapids to Hance Rapids. Now, we were beginning the final chapter of our trip, the climb from the Colorado River back to the South Rim. Two full days of hiking remained and the next hour would be critical. More than the benefit of putting one or two miles behind us, the next hour would set the stage for a successful day of hiking, tomorrow. We would also be introduced to a new Grand Canyon track. The Tonto Trail begins at Hance Rapids, ascends to the Tonto level and follows the Colorado River all the way to Garnet Creek. Its ninety-five mile long course winds into and out of countless side canyons that feed the Colorado. Our itinerary would follow less than ten percent of its full length and, on this short jaunt, about a mile.
The Tonto trailhead at Hance Rapids is unmarked. It begins as so many Grand Canyon trails begin, with a cairn marking the spot where it leaves the creek bed. The Tonto traces a path that parallels the Colorado River until reaching the foot of boulder-strewn slope. We followed the steadily rising track for some forty-five minutes or more. The liberally-cairned trail snakes up the slope through a sea of rocks until flattening at a low shelf. We paused for one last, long look at the inner gorge. Looking downstream, John Hance's asbestos mine was clearly marked by a broad, pale fan of tailings. Upstream, we could still see the long beach at Hance Rapids. For three days, we had been shadowing the Colorado River. For the remainder of this trip, the waterway responsible for carving Grand Canyon would seem little more than a distant neighbor. From here on out, we would be working our way up and closer to the South Rim. Soon after we resumed the trail, it emptied into a small clearing amidst a rock garden of huge blocks and boulders. We came to a place with flat ground and enough open space for our tents. This would be our camping spot for the night.
The next day--the sixth of our hike--we reaped the rewards of the hour invested the previous afternoon. We'd shaved a mile in distance and nearly four hundred feet of vertical elevation from the day's itinerary. As a reward, just fifteen minutes after leaving camp, we were hiking in the shade along the east rim of Mineral Canyon. It was a bright, sunny morning but we spent the next forty-five minutes in the shadow of the ridge bordering Mineral to the east. We walked back into the sunlight just at the point where the trail begins its descent toward the creek bed crossing. At 9:35 am, we were passing through Mineral Canyon's creek bed and beginning the final ascent to the Tonto level below Ayer Point. We were just ninety minutes into the day and had covered nearly two miles. At this pace, we'd reach Hance Creek by lunch.
The trek through the minor bay below Ayer Point was interrupted by our only encounter with other hikers on this day. Walking along the east side of the bay, we met a group of four backpackers taking shelter in the ample shade provided by a large, exposed stone wall. We stopped briefly to chat--they were headed to Hance Rapids for the night--and were soon back on our way. Three miles of trail still lay between us and Hance Creek. There was work to be done. After ascending steadily from the head of the bay, the Tonto trail emptied onto a broad plateau and began a long arching turn around Ayer Point. Best of all, the trail leveled and, over the next two miles, would ever so gradually lose about a hundred feet en route to Hance Creek. Off to our right, the impressive chasm of Hance Canyon lay exposed to the day. It's broad expanse and massive volume of rock angled ever downward to the narrow bed below. Farther to our right, Horseshoe Mesa dominated the western horizon. Though, from this perspective, no one would see any resemblance to a horse shoe.
It was 11:40 am when we decided to step and rest a bit at a shady spot in the large bay along the east rim of Hance Canyon. The bay has been carved over eons by water flowing through a ravine draining the ridge leading to Ayer Point. In a desert environment receiving just a few inches of rain a year, the change in the landscape of a place like Hance Canyon can be seemingly insignificant. But over a period of hundreds of thousands of years, millimeters become kilometers and a bay such as the one found shade in are formed. We stopped only for fifteen minutes or so, but the rest gave us renewed energy and focus for the push to hike the final mile-and-a-half to our destination.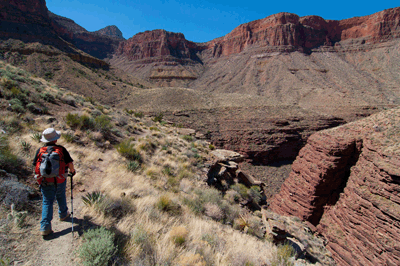 Over the next hour, we made steady progress along the Tonto towards Hance Creek. It was just before 12:30 pm when we came over a rise and saw, for the first time, green-leafed Cottonwood trees marking the location of a prime camp site alongside the perennially-flowing creek. No matter how many times I've seen them, Cottonwoods always bring a smile to my face. Cottonwood trees mean water and that means respite from the extreme dryness that defines this canyon labyrinth. However long or difficult the day's hike has been, finding that magical combination of Cottonwoods and water is like encountering a miracle in the wilderness. It's an oasis in the desert, a place where the thirsty will thirst no more. Twenty minutes later, Matthew and I hop-stepped over Hance Creek as we followed the path downstream from the spot where the Tonto trail reaches the bed to that little bit of Shangri la.
Hance Creek was the one place during this week-long trek where we found flowing water in the inner canyon. This illustrates the importance hikers place on hiking along the Colorado River. Every hour spent within a short walk of the Colorado is an hour during which water is a non-issue. So, when encountering obstacles like the enormous schist outcrop blocking the way at the mouth of Papago Canyon, a person is willing to play Spider-man and climb a wall, and to risk the boulder-choked chute known as the Papago Slide. These thrilling bypasses allow one to stay near water. And water is everything in the desert. If you have it, you're a person of great means. If you don't, you'd better find it soon.
Explorers of the inner Grand Canyon have relied on Hance Creek water for centuries. So, it should come as no surprise that people have, on occasion, decided to leave their mark at this oasis. Just upstream of our campsite amidst the Cottonwoods, is a place where exposed rock layers create a sheltered bench alongside flowing Hance Creek. The mud-covered walls are filled with inscriptions. Some are more than a hundred years old. "A. S.GARRETT" from "APRIL.1890" and "Ed. GALE" from "1896" are two historic inscriptions. However, most of the signatures are contemporary and less than twenty years old. To be fair, the Garrett and Gale signatures would have been considered contemporary--graffiti by some--in their day. But that was a different time. The men who bet their lives and livelihoods on Grand Canyon were celebrated. Leaving their mark was a matter of pride, an ideal reflected in the obvious craftsmanship of the chiseled signatures from that era.
Since the early 1900's when Grand Canyon was set aside as a national monument, the ethic has been one of preservation. The days of miners making their homes below the rim are long gone. Today's rafters and hikers are visitors and, as guests in a National Park, we have a responsibility to preserve its condition and appearance for those who come after. Now, I admit to bringing home the occasional souvenir collected during a trip. I've unintentionally left behind a scrap of trash or even a piece of gear. But I've never picked up a knife, stone or other implement and carved my name on Grand Canyon. To me, that kind of defacement is beyond the pale. Unfortunately, it only takes one or two people to undo the restraint hundreds who came before had shown. I invite you to join me in encouraging others to adopt a leave no trace ethic.
Dennis spent the afternoon of that sixth day exploring up Hance Creek in search of John Hance's old cabin. Matthew relaxed and took a well-deserved nap. I did what dads do...chores around camp. The first item on the "To Do" list was setting up the shelter, a Tarptent StratoSpire 1. For years, I've been packing a Mountain Hardware Sprite I tent when solo backpacking. The Sprite I sets up, quickly, and has just enough room for me and a few critical items. Along with its footprint, the Sprite I weighs in at an even 4.0 pounds. Since this trip would require a shelter large enough to accommodate me and Matthew, my initial option was to bring my North Face Tadpole 23. Though roomy enough for two, the Tadpole 23 and footprint weigh in at a hefty 5.25 pounds. The Tarptent StratoSpire 1, with footprint and stakes, tips the scales at a svelte 2.5 pounds. It's roomy enough for two and very comfortable as a solo shelter.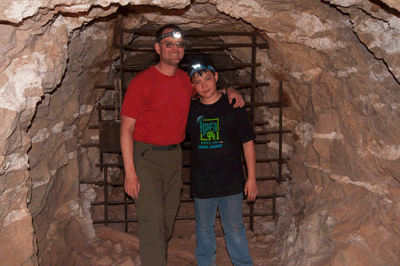 After setting up the tent, I inflated our air mattresses and tossed them in with the sleeping bags. Matthew helped with this chore and promptly took advantage of the situation to lay down for an afternoon nap. He was using my Big Agnes Cross Mountain 40 sleeping bag on this trip. This and the Big Agnes Air Core mattress weigh a combined 3.7 pounds. I was breaking in a new Western Mountaineering Summerlite down bag and a Thermarest Neoair Xlite mattress, weighing a combined 2.0 pounds. The last new piece of kit I was using on this trip, was an Osprey Atmos 65 backpack. Since 2006, I had used an Osprey Aether 70 pack for my overnight hikes. The following year, I picked up an Osprey Atmos 35 pack for day hiking. In 2009, Osprey repaired a snapped frame in my Aether 70 without complaint. That cemented my commitment to Osprey and their products. The Aether 70 weighs a beefy 4.6 pounds. The Atmos 65 is a slim, trim 3.6 pounds. Between the new pack, shelter, bag, mattress, and other odds and ends, I had managed to reduce my base pack weight for this trip by more than 5 pounds. My legs, shoulders, back...heck, my whole body was thanking me.
My next chore was to filter enough water for dinner and breakfast. We had been surviving on Colorado River water since late on the second day of the trip. And the Colorado was running according to her name. I had been back flushing my MSR Hyper Flow twice a day to prevent gritty river sludge from clogging the system. The clear, crystalline waters of Hance Creek were a welcome respite from the precipitate left by the river. With this task out of the way, I decided to make my log book entry for the day. Writing the daily log entry is not so much a chore as a reward. The process of mentally cataloging and organizing the major events of the day is one I find both enjoyable and relaxing. I don't journal at home, probably because so much of my work day is filled with writing emails, reports and scripts. But journaling on my Grand Canyon backpacks is something I always look forward to.
Dennis returned from his excursion and reported that he'd not been successful in locating John Hance's old cabin site. The sun had dropped behind the ridge to our west and shade have overtaken Hance Canyon. We made our final dinner meal of the trip as a dusky veil fell over the sky. Matthew and I have a tradition of eating Mountain House lasagna on the last night of a hike. We enjoy this meal and the cheesy residue it leaves won't foul our spoons, if saved for the last big meal of the trip. After dinner as twilight descended, I made the short walk to an opening above our campsite with my camera to shot some HDR sets. The time sort of got away from me and I ended up walking back to camp in the dark without a headlamp. Back at camp, Dennis and I said our goodnights. As I climbed into the tarptent, I suddenly became aware of a cacophony of ribbits from Grand Canyon tree frogs. I used my Nikon D90 to record the discordant chorus and, while doing so, actually found myself feeling soothed by the rhythmic bleating. I soon fell asleep to this grand lullaby.
The next day would be our last of the trip. It would also be among the most challenging. We only had four-and-a-half miles to travel but those miles included nearly 3,700 feet of vertical elevation ascent. Matthew and I got a decent start, leaving camp at 7:28 am, quickly locating the exit route the Tonto trail takes from Hance Creek and beginning the long steep climb to Horseshoe Mesa. This initial ascent took the balance of the morning to complete. We took short breaks in a shaded drainage at the Tonto level. It was here that Dennis caught up to us and, after confirming a meet up location, continued ahead so he would have time to explore O'Neill Spring on the west side of Horseshoe Mesa. Matthew and I continued to make steady upward progress until stopping for a long rest at Page Spring. Also known as Miner Spring, this mini oasis offers the nearest reliable water source for hikers staying in the Horseshoe Mesa camp sites. Nestled in an intimate grove of trees and decorated by ferns, this small pool of crystal clear water provides shelter to hundreds of weary hikers every year.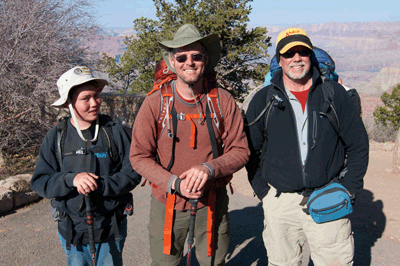 Soon after departing the spring, Matthew and I arrived at the Last Chance Mine adit. We stopped to explore a bit and take a few photos. My first visit to this place was in July 2007 before the Park Service barred the entrance. Dennis and I explored the interior shafts on that trip. On this day, Matthew and I would have to be satisfied gazing through steel bars and wondering what lay beyond. No matter, we still had a significant climb ahead and I wanted to reach Horseshoe Mesa before lunch. We were successful, arriving at the mesa about ten minutes to eleven. We walked over to the old cook's cabin and then sauntered up the trail until we found a nice spot in the shade to sit, relax and eat an early lunch. After a bit, I wandered up the trail and found Dennis, also relaxing in the shade.

It was noon when we left Horseshoe Mesa to begin the final three-mile trek to the Grandview trailhead. We arrived at 4:00 pm and were very happy to see the Isuzu Rodeo exactly where we'd left her one week ago. We changed into clean clothes and made the twenty minute drive to Lipan Point so Dennis could retrieve his truck. From there, we drove to Cameron for a celebratory dinner at the Trading Post. After that, it was back on the road for the hour-long drive home to Flagstaff.

This hike was a real departure from past father-son trips Matthew and I have taken. The itinerary was far more demanding than anything he had previously done. There were times when he must have wondered if I had devised this trek as some form of cruel punishment. In fact, my intentions were just the opposite. It is during those moments when we are forced to push ourselves beyond self-identified and self-imposed limits that we discover just what we are capable of doing. Matthew was definitely pushed on this trip. He walked to the outer border of his personal comfort zone and then pushed well beyond. In doing so, I hope he discovered what I saw, a young man who can face a tough test, dedicate himself to it and have success in meeting any challenge placed before him.



Bill Ferris
Flagstaff, Arizona