| | |
| --- | --- |
| | April 24-26, 2009 |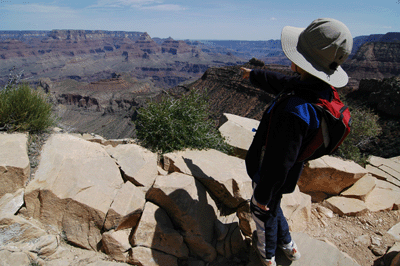 It is often said that life is a journey. Like a journey, a life can be described by its destinations. We are always on the way to somewhere. Some destinations we arrive at by choice and others by chance. The destination of the moment may be an actual place--a new home, school or job--or a metaphorical one. A life progresses in stages from childhood to adulthood to maturity. And along life's journey, many of the moments we remember as being particularly special are those that involve firsts. The first step taken, the first word spoken, a first sleepover, first date, first time living away from home; all are memorable milestones in this journey we call life.
My son had a first on this trip. It was his first overnight backpacking trip in Grand Canyon. Years from now, he may or may not remember this hike as well or fondly as I. But I'm certain this trip will stay with me for many years to come. I fondly remember the family camping trips I did, as a child. My father was an avid outdoorsman who loved to spend as much time as possible in the backcountry. We backpacked the Marble Mountains of northern California, canoed the freshwater lakes of central Canada and sailed off the coast of British Columbia. Those experiences shaped who I am, today, and that is one of the reasons I have made an effort to share similar experiences with my son.
One of the great joys of parenthood, is the opportunity to guide your child's progression toward adulthood. Now, at eight years of age, Matthew is still a ways from that particular milestone. Adulthood is barely even on his radar. But the journey is begun and one of the destinations I have added to his itinerary is the Grand Canyon. We've been taking an annual camping trip since the summer of his fifth year. During our 2006 trip while hiking along the South Rim trail, I had an epiphany: it dawned on me that I had been living in Arizona nearly ten years but had yet to set foot below the rim of Grand Canyon. I decided to change that and, as a result, am now an avid Grand Canyon hiking enthusiast.
For our summer 2008 camping trip, I took Matthew to Mather campground. It was during this trip that Matthew did his first day hikes below the rim. We hiked down Bright Angel Trail to Mile and a Half Resthouse and down South Kaibab Trail to Ooh Ahh Point. It was during those below-the-rim hikes that we started talking about doing his first overnight trip in Grand Canyon. Initially, I had hoped to get two nights at Indian Garden for this trip. Indian Garden is just 4 1/2 miles from the rim along the Bright Angel Trail. The park service provides potable water and toilets at the campground. Plateau Point is an easy day hike from Indian Garden. All of this makes a trip to IG a great choice as a destination for a first overnight trip in Grand Canyon.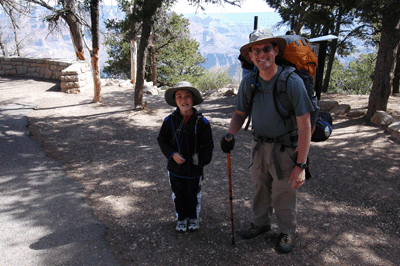 However, I made the classic mistake of not sending in my backcountry permit request on the first of the month. Grand Canyon's reservation system allows you to reserve a campsite in a use area as far as five months in advance of the planned trip. If you want to do a hike in April, you can submit your permit request as early as the first of December. But I waited...until December 2nd to send in my request for a two-night itinerary. Being one of three Corridor campgrounds (Bright Angel and Cottonwood are the others), Indian Garden fills up, quickly. April being one of the premium months for hiking and backpacking in Grand Canyon, Corridor campsites fill up especially quickly. So, a couple of weeks after faxing my request, I received a letter from the Backcountry Information Center informing me that my permit request had been denied.
It was then that I went into full scramble mode. Not only had I missed out on Indian Garden but I was now two weeks into the window during which other sites could be requested. As it turned out, Bright Angel Campground and Horn Creek were all full. After considering my options, I decided to send in a follow-up request for two nights at Horseshoe Mesa. In hindsight, things could not have worked out any better. I would recommend this trip to any parent as a great option for a first backpacking experience for a child.
Horseshoe Mesa lies at the end of the 3-mile long Grandview Trail. The first 1 mile of Grandview can be fairly described as among the steepest sections of any of the major South Rim trails. I would rank it behind Boucher, New Hance and Tanner in that regard. However, the trail is generally in very good condition and requires no hand & toe climbing or pack lowering. If one is able to negotiate the upper half of Grandview, the last half is pretty tame. After the initially steep and switchbacky descent through the Kaibab, Toroweap, Coconino and Supai layers, the trail moderates quite a bit during the last mile to Horseshoe Mesa.
Horseshoe Mesa is regarded as a Threshold site by the park so, don't expect too many ameniteis. However, there are roomy established campsites on the mesa and a separate large group site. Solar composting toilets are provided and, although there is no potable water on Horseshoe Mesa, Page Spring is a 3/4-mile hike below the neck of the mesa along the east side. Page Spring is a perennial source of water that can be treated or filtered for drinking. And there is plenty to see and do on Horseshoe Mesa. Pete Berry mined copper on this location during the early part of the 20th Century. The remnants of his mining operation can be found throughout the area. The broken down walls of a cook's house, old tools, abandoned mines and other materials make for interesting day hikes. However, stay out of the mines as these are unstable areas at risk of collapse.
So, with Indian Garden and other Corridor sites fully-booked, I opted for two nights on Horseshoe Mesa. Matthew and I would hike in on April 24, spend two days and nights exploring the mesa, and hike out on April 26.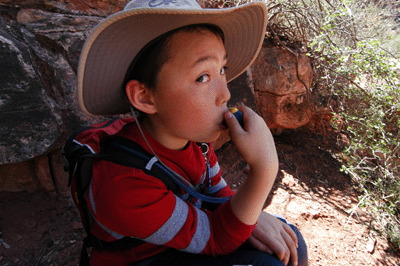 We left home at 8:00 am on Friday, April 24 and made the 90-minute drive to Grandview Point without incident. With the backpacker and hiker lot full, I opted to park the Rodeo in an open spot with all the other sightseers. After a visit to the local port-a-let, we strapped on our gear and hit the trail. When hiking with kids, it's important to not overburden them with too much weight. The last two hikes I'd done were 5- and 9-days in length. My pack weights on those trips were 42 and 48 pounds, respectively. If this had been a solo hike, I'm sure my pack weight would have been somewhere in the mid-30's. However, I was packing for two.
Matthew wore his hydration pack, which carries a 50 oz. water reservoir and has two small pockets. In those pockets, he carried some snacks and a Hot Wheels car. (Hey, if he wants to carry the weight, he can bring a toy.) My Aether 70 backpack was filled to the limit with my two-person tent, two sleeping bags, two sleeping pads, food for two, clothes for two, kitchen and utensils, and nearly 8 liters of water. I didn't even want to know how much that pack weighed for this two-nighter. Whatever it was, it was heavy.
From the outset, I made sure that Matthew understood we were in no hurry. We could take our time, rest often and still have plenty of time to reach the mesa before dark. As steep as the upper half of the Grandview Trail is, I didn't want him to feel any pressure to do something he wasn't comfortable doing. That easy approach and the fact that I generally hiked in the lead, gave him the confidence to keep going.
Another strategy I employed was the "Hiker Game." This is a game that evolved from the previous summer. To keep him occupied on the road, I devised a version of the old, "License Plate Game." When I was a kid and we were making our annual drive east from California to visit my dad's mom in New York, we played the "License Plate Game." Bascially, everybody chooses a state and the one who spots the most vehicles tagged with plates from their state wins. The version I developed for roadtrips with Matthew is the "RV Game." In this contest, the first person to see and verbally claim an recreational vehicle (RV) gets a point. If the RV is pulling a dingy (another vehicle), it's worth two points.
When Matthew and I did the Bright Angel and South Kaibab day hikes in 2008, I suggested we substitute hikers for RV's and the rest is history. So, while slowly making our way down the Grandview Trail, Matthew and I passed the time by collecting hikers. I have to say, he's a naturally competetive kid. During the drive to the Grandview trailhead and the initial mile-long descent to the Coconino saddle, Matthew built a commanding 20+ point lead on me. As Matthew put it, "I'm crushing you, Dad."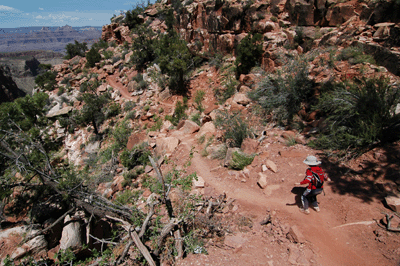 The Coconino Saddle is a milestone on this trail. From this narrow 50-foot wide saddle, one can look south into Hance Canyon or north into Cottonwood Canyon. The saddle lies at the bottom of the Coconino and the trees offer plenty of shade. Due to its location, this saddle is a popular place for hikers to cache water for the return hike to the rim. Below the saddle, the trail continues along an easterly track for about 1/4 mile befor turning to the north and making a b-line for Horseshoe Mesa. This begins the descent through the Supai, which is fairly steep and filled with switchbacks during the first 1/2 mile below the saddle. But once through this last steep section, the Grandview Trail moderates quite a bit. In fact, over the last 1/2 mile or so to Horseshoe Mesa, Matthew was comfortable enough with the slope that he often hiked in the lead.
It was also during this last, more moderate section of trail, that we met a couple of hikers who would end up sharing our campsite that first night. Karl and Kathy were doing a circumambulation of Horseshoe Mesa. Their plan was to spend the first night on Horseshoe Mesa. The next morning, they would hike down the west side to Cottonwood Creek, continue on the Tonto Trail around the north side of Horseshoe Mesa to Hance Canyon and, eventually, get to Hance Creek where they would spend the second night. The third day would be relatively short with a hike up the east side of Horseshoe Mesa via the Page Spring trail. They would camp on Horseshoe Mesa that third night, before hiking out Grandview to the rim on the following day.
The four of us hiked as a group over that last stretch of trail. Approaching the mesa, I spotted some old barbed wire, a stone inscribed with a mining claim number(?), and several unofficial campsites. I also pointed out to Matthew the colorful, mineral-rich stones that dotted the ground. Once you see Horseshoe Mesa, it's pretty obvious why a person would consider it for a potential mining operation. The evidence of high mineral concentration in the rock is all around.
While Karl and Kathy made a detour to check out the Page Spring trail, Matthew and I continued to the old cook's cabin. Here, the trail branches east to the designated campsites and toilets. We walked along the stone-lined trail and eventually chose the site closest to the east rim of Horseshoe Mesa. The campsites on the mesa are really quite spacious. The one we chose included a commons area where rocks had been used to construct a half-circle bench about 12 feet in diameter; great for preparing and eating meals. Our site also featured three areas that had been cleared of rocks. All were near trees offering shade at various times of the day.
We arrived at the campsite at about 2:15 pm. Having eaten only trail mix and granola since breakfast, Matthew and I decided to delay setting up camp until after lunch. I'd packed bagel, salami and cheese sandwiches for me. Matthew had chosen cracker, chicken and cheese fixings from two Lunchables. However, he thought my sandwich looked pretty good so, we ended up sharing our lunches on the trip. I had also packed Capri Sun fruit punch drinks for Matthew's lunches. These are shelf-stable and packaged in a soft sided pouch making them reasonably durable yet lightweight for backpacking.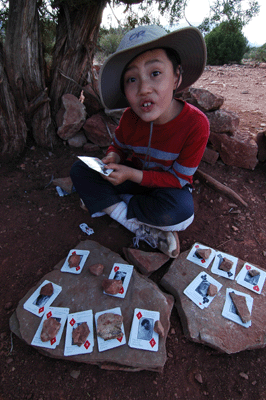 After lunch, we setup our tent in the spot north of the commons area. It had been over a year since the last time I had setup the North Face Tadpole 23 (A single-person Mountain Hardware Sprite has been my tent of choice.) so, it took a bit longer than usual to assemble. The gusting wind didn't help matters, either. The forecast had been for partly cloudy skies with gusts in the 30's and that pretty much described the weather on this hike. It wasn't unpleasant by any stretch but the strong winds made food preparation a real challenge. We ended up taking several meals in our tent.
With the tent assembled, the next task was sleeping bags, pads and organizing our food supplies. It was close to 3:30 pm by the time camp was fully set up. And by then, I was ready for a break. Matthew had asked me to bring a deck of cards and this seemed as good a time as any to break those out. We used the shaded spot east of the commons area for this activity. The tree wasn't dense enough to provide much relief from the wind so, we collected small stacks of rocks and used them to weigh down our various card stacks. We played War, Crazy Eights and Go Fish; all classic card games from my childhood that Matthew also enjoys. Playing cards and relaxing in the shade occupied the remainder of the afternoon.
When Karl and Kathy walked over after scouting the Page Spring trail, I invited them to take one of the tent sites near our area. The campsite was quite spacious and their company would be welcome. So, they accepted the offer and setup camp. Later that afternoon, they decided to hike down the west arm of Horseshoe to look for a bench they'd read about. The bench was supposed to be setup at a location offering an impressive view of the Tonto platform, below. So, while Matthew and I continued our Go Fish tournament, they left camp about 4:00 pm to do a day hike.
That evening, I made Mountain House spaghetti and beef chili mac for dinner. Matthew ate the spaghetti and had a cup of hot cocoa to go with it. I ate the chili mac and had my usual cup of hot apple cider. Matthew's a growing eight-year-old but still no match for a Pro Pro-Pak size meal. I ended up eating about 1/2 of his spaghetti. This was a common theme at mealtime. Matthew would eat most of his meal and I'd finish the rest. Hey, it's better than packing out the leftovers as garbage. For dessert, we each had one miniature Hershey chocolate bar with almonds. It's not a lot but the rich chocolate flavor is very satisfying, especially after a long day of hiking in Grand Canyon.
Matthew and I were in our sleeping bags by 7:00 pm. Matthew must still have had some chocolate coursing through his veins because it took him awhile to settle down. It was either the chocolate or being excited about the camping trip. It had been a very good first day on the trail. We'd hiked to Horseshoe Mesa, made some new friends and, most important, neither of us was suffering from the hike down steep Grandview Trail. While laying in our bags, I made up a bedtime story about a boy who lived in the forest with his parents. One day, the boy goes off on an adventure to explore a canyon on the other side of the mountain. While hiking through the canyon, the boy finds a cave and decides to explore it. In the cave, the boy finds a legendary treasure and returns home to tell his parents about the discovery. It was all very simple and innocent. It was also an omen of things to come.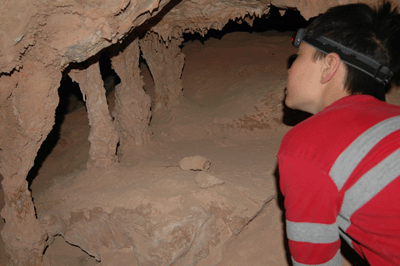 Saturday morning dawned chill and blustery with high winds buffeting the tent. We took our breakfast in the tent and made our plan for the day. First on the agenda was a hike to the west side of the mesa to check out Cave of the Domes. This cave is one of the few in Grand Canyon that the park officially encourages visitors to enter and explore. We left camp shortly after 9:00 am, following the trail to the cook's cabin and turning north. The trail to Cave of the Domes is about 3/4-mile in length. It skirts the south and west side of the unnamed butte atop Horseshoe Mesa for much of that distance. Just northeast of the butte, the trail crosses a drainage. This junction is marked by a cairn and a route clearly branches west in the drainage toward the rim of the mesa.
Following the drainage a few hundred meters, we arrived at the rim where the route descends a short ways to a trail heading north along the edge of the rim to what appears to be a large cave opening. This first depression in the wall is a false entrance. The real entrance is another 50-feet along a well-worn path. When we arrived, I asked Matthew if he wanted to lead the way. Donning his head lamp, Matthew stooped down and walked through the low opening. He was obviously impressed with what he found. Moments later, I followed Matthew into the cave. Very cool!
The low entrance leads to a large interior chamber. Across from the entrance, we found an old, hinged door laying on the cave floor. Nearby on a natural rock shelf, I spotted the ammo can containing the sign-in register. Matthew read the visitor instructions on the register cover and I scanned some of the more recent entries to look for familiar names. Then, I made an entry for Matthew and me, and it was off to explore. We spent a few minutes checking out the entry chamber, before heading deeper into the cave system. Soon enough, curiosity and sense of adventure got the best of us and we were off on an expedition. The chambers and pathways were pretty well cairned so, I wasn't too concerned about getting lost in the myriad chambers. As long as we were following an established path, I was perfectly content to let Matthew lead the way and go where ever his curiosity led him. We spent over an hour in Cave of the Domes that morning. This was clearly the highlight of our trip.
Returning to camp, we ate lunch and played some cards. By now, we were getting low enough on water that a trip to Page Spring to tank up was in order. As steep as the trail is to Page Spring, I didn't want to bring Matthew. It wasn't that he couldn't do the hike. I was confident that he could. It was that he would need to go much slower; an hour on the trail could turn into two or three. So, we talked about our options and Matthew persuaded me he could take care of himself at camp for a couple of hours. With that resolved, I loaded up my Osprey pack with our bladders and water bottles, and headed off to collect some water.
I left camp at 1:25 pm and walked at a good pace towards the Page Spring trail. Twenty-five minutes of hiking brought me Page Spring, which was filled with clear, cool water. This was some of the most appealing water I'd seen in Grand Canyon in quite some time. I sat in the shade beside the pool and began filtering. Within 15 minutes of my arrival at Page Spring, another couple that I'd passed at the junction showed up. They joined me beside the pool and, together, we collected fresh water for drinking and cooking. I ended up filtering about five liters of water in 40 minutes. This combined with the 2 1/2 liters remaining in my backpack bladder added up to 7 1/2 liters or 16.5 pounds of water in my pack for the hike back to the campsite. I maintained a relatively quick pace for the return hike and got back to camp about 35 minutes after leaving Page Spring. It was 2:05 pm.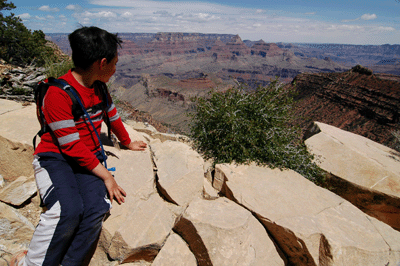 Matthew and I played some cards at camp when I returned. Later, we did a short day hike up the east arm of the mesa to find an overlook where we would have a good view of the campsite in Hance Creek. Karl and Kathy were supposed to be camping at Hance Creek, tonight, and I wanted to see if we could spot their tent. We found our overlook at 3:30 pm and spent the next hour using my binoculars to check out the canyon and just generally relaxing in the late afternoon sun. We were just a couple of guys killing time. We did see a tent setup at Hance Creek but it wasn't Karl and Kathy's.

Upon returning to camp, we crawled into the tent to escape the wind gusts and set about the task of making dinner. I had chicken teriyaki and half of Matthew's spaghetti. Afterwards, we settled in for the night and were asleep before dark. During the night, the winds calmed to a light breeze and we both slept better as a result. We woke early Sunday morning, made breakfast in the tent and started packing our gear.

Just before 9:00 am, we left our Horseshoe Mesa campsite with Matthew in the lead. He did a great job of taking us along the trail and up to the rim. Along the way, we passed some backpackers and day hikers. They were impressed with Matthew's stamina on the trail. We took regular breaks and snacked, often. During one of our breaks, we were passed by an older gentleman who stopped to say good morning. As it turned out, we knew each other from the Grand Canyon Hikers Yahoo discussion group. He was "Doc Thomas," a retired Grand Canyon Clinic physician and avid canyon explorer. Doc's hiked with Harvey Butchart, George Steck and just anybody else who pioneered the modern exploration of this remarkable place. It was an honor to finally meet Doc.

We reached the Coconino saddle at 10:52 am, which was less than two hours from the time we'd departed Horseshoe Mesa. On Friday, it had taken us about 2:45 to hike from the saddle to the mesa. Matthew was obviously feeling more confident on the trail. A short break at the saddle allowed us both to catch a second wind. Now less than a mile from the rim, we were smelling the barn and ready to push onward to the trailhead. That final ascent took about 1:20 and we reached the Grandview trailhead at 12:15 pm.

We stopped at the Wendy's in Tusayan for lunch and then hit the road for the return drive to Flagstaff. It had been a long week for me; hiking the Gems over five days, an off day to prep and pack for this trip, and then a three-day hike with Matthew to Horseshoe Mesa. But other than needing a shower and a shave, I felt pretty good. Matthew soon fell asleep and dozed the rest of the drive home. He'd done a great job on the hike and returned to the rim with more confidence than when he'd entered. Backpacking in Grand Canyon does that to a person.



Bill Ferris
Flagstaff, Arizona