| | |
| --- | --- |
| | July 15-18, 2011 |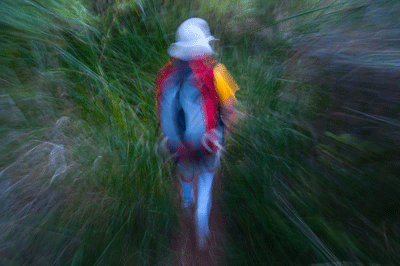 Family vacations are among my most treasured childhood memories. When I was a kid growing up in the small harbor town of Eureka, California, we spent at least one week every summer canoeing, camping or backpacking. And the destination was always someplace amazing. We backpacked the Marble Mountains, canoed Trinity Lake and camped all over northern California. But our journeys were not limited to Golden State destinations. We spent a week sailing a small boat off the western coast of Canada. We canoed the connected waterways of the Bowron Lakes in British Columbia. The ultimate Ferris Family adventure was the summer we moved from California to central Wisconsin. We turned this move into a summer long vacation, driving our Volkswagon Campmobile (I slept on the cot across the front driver and passenger seats.) cross-country from Santa Barbara to Stevens Point. Along the way, we visited Death Valley, Zion, Bryce Canyon, Grand Tetons and Yellowstone national parks. The zenith of this summer road trip involved a detour from Minnesota north into Ontario, Canada for a canoe trip in Quetico Provincial Park.
Today some four decades removed from my childhood, the memories forged during these trips remain fresh in my mind. And they inspire me to create the same kind of memories for my son, Matthew. That's why we've been doing a father-son camping trip every year since 2006. In 2011, we did our third father-son backpack in Grand Canyon. The first was in 2009 when we did a multi-night hike down Grandview Trail to Horseshoe Mesa. For this trip, we decided to stay in the Corridor and do a four-day pack staying at Indian Garden, Bright Angel Campground, and again at Indian Garden. We chose this itinerary for the very simple reason that we would be hiking in July, the hottest part of the summer. Temperatures at the river at BACG would be in the 100's. Even Indian Garden would be sweltering in the 90's. And no matter what anybody may say about the desert dishing up a dry heat, hot is hot no matter how dry. Hiking the Corridor would mean short stages, less water weight and more fun for father and son.
We were moments from leaving the Rodeo, from walking to the trailhead and beginning our four-day adventure. That nagging voice in my head was saying, "You're forgetting something," but our packs and gear all seemed in order. So, I closed the door and less than two steps from the vehicle, I realized what I'd forgotten. The keys. Looking into the driver's side window confirmed what I already knew; the keys were in the ignition and the doors were all locked. There was only one thing to do, start the hike and worry about the keys, later. The Rodeo wasn't going anywhere and we didn't need the keys for the hike. Rather than let my forgetfulness ruin a perfectly good trip, we started hiking.
Going down Bright Angel Trail at a casual pace, we arrived at Indian Garden just before lunch and selected a site to pitch our tent. After setting up camp, it was time to find a shady cool place to spend the afternoon of a hot July day. We walked down trail to a place along Garden Creek that I've been using for years. It's a narrow ravine through which the creek runs a short distance before spilling over a fall. Rocks near the edge of the falls offer the perfect place to sit in the shade and stay cool in the flowing creek. We brought my collapsible water bucket and amused ourselves by dousing each other with water. We were following my first two rules of successful Grand Canyon hiking: Take breaks in the shade and use water to keep cool.
My third rule of successful Grand Canyon hiking is, hike early. And that's just what we did the following morning, waking up, eating breakfast and getting on the trail before the sun had spilled into Indian Garden. I like to let Matthew set the pace whenever we hike. He leads and I follow, which is a nice change of pace for both of us. We rolled into Bright Angel Campground before noon, which allowed us to find a nice camp site with shade and direct access to the creek. The mercury was well into the 90's by the time camp was set up so, we walked over to the Phantom Ranch Canteen to eat lunch in air conditioned comfort. After that, we returned to camp, stripped down to our shorts and waded into Bright Angel Creek.
Sitting in a cool, clear flowing creek is a great way to spend a hot summer afternoon. The collapsible water bucket just added to the fun. We soaked each other, made up silly song lyrics and generally laughed away a good couple of hours sitting in the creek. Looking around us, it was obvious that we were continuing a great tradition of "creek sitting" at Bright Angel Campground. Up and down the creek, small pools of water had formed within the walls formed by stones--large and small--that had been stacked and arranged by previous residents. This bit of public engineering had transformed Bright Angel creek into a series of personal day spas constructed by and for the guests.
Eventually, whether due to our skin shrivelling like prunes, hunger pangs for just the simple desire for a change of pace, we left the creek and made the short hike to Phantom Ranch in search of some new kind of fun. The air conditioned Canteen is always a welcome oasis on a hot July afternoon. Small groups of hikers and mule riders were collected at the tables, enjoying Lemmy's, playing cards or sharing stories. Matthew had recently taught me a card game called, Garbage, and we entered into a spirited contest in that arena. He eventually dealt a final, crushing blow and we decided to move on to other entertainment.
Ranger programs are offered on a daily basis at Phantom Ranch. I've always enjoyed these talks and that has not diminished with age or the passage of time. The topic on this day was condors. I'd heard the same topic presented by another ranger but it didn't matter. I still enjoyed the talk. Seeing the genuine interest and enthusiasm on the faces of the people in attendance contributed to my enjoyment, as did the interest of the ranger giving the talk. We enjoyed this talk so much, we returned after dinner to hear a presentation on bats and scorpions. The ranger even had an amplified speaker system that allowed us to hear the high-pitched quips and chirps bats make as they use sonar to find food in the form of flitting insects. Public education is among the most important duties a national park ranger performs. Through programs such as this, we teach each other to value and protect the natural treasures that have been set aside as parks.
Now with the sun set behind the granite walls of Bright Angel Canyon, nightfall was descending over the campground and the temperature was slowly dropping. It was still hot, mind you, but I've always found heat more bearable when not in Sol's direct line-of-sight. As we climbed into our tent for the evening, we both decided to use our sleeping bags as mattresses. There was no need to climb into the bags for warmth. The summer air in the Canyon was providing plenty of warmth and the occasional small puff of breeze helped to keep conditions comfortable. We made small talk and discussed our plan for the next day. Eventually, sleep overcame us and we rested through the night.
The next day was another travel day. For two days, we'd been gradually making our way from the south rim to the river. Now, we were going to be begin the climb back to the rim. And it was gonna get hot. I decided to look upon this as a teaching opportunity. During the years I've been bringing my son to hike Grand Canyon, three simple rules have been driven home during our excursions: hike early to beat the heat, take regular breaks in the shade, and drink and use water to stay cool. As is our practice, Matthew led the way and set the pace. I also asked him to keep an eye open for good places to rest and cool down. We started early enough from Bright Angel Campground that we were able to hike the stretch from the Silver Bridge along the River Trail to Pipe Creek Rest House mostly in shade.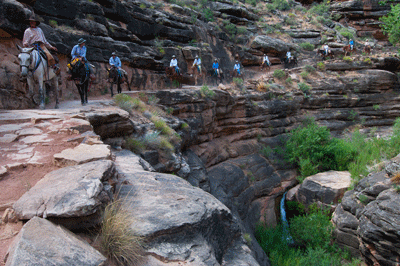 While enjoying a short break at the rest house, we took advantage of nearby Pipe Creek to wet down our shirts, hats and bandanas for the trek up Bright Angel Trail to the base of the Devil's Corkscrew. We both shivered from the chill while pulling soaked shirts down over our shoulders. That's a good thing on a July morning in Grand Canyon. We snacked on trail mix, granola and jerky before leaving the rest house. We'd need the energy for the upward angling trail, ahead. The hike through Pipe Creek Canyon was mostly shaded but definitely not cool. The day was warming and there would be no way to avoid hiking in the heat. The task ahead was to be smart about it; don't' fight it, but recognize the situation and seize opportunities to mitigate the conditions. Matthew set a good, casual pace for our trek along Pipe Creek. Just up trail from the first steps of Devil's Corkscrew, we stopped to re-wet our shirts and bandanas in the cool flowing water. Then, it was onward and upward through the Schist.
Both of us knew that this would be the most difficult section of trail we'd negotiate en route to Indian Garden for our third and last night in the Canyon. Matthew found two places in the Corkscrew to stop in shade for brief breaks. We drank plenty of water and Gatorade to stay hydrated. When we topped out having worked up a good lather on the ascent, we stopped for another break and more snacks. The trail still had some elevation to gain before arriving at Indian Garden but we were through the hardest section. From this point on, it wasn't a question of if we would reach camp but when. And time was plentiful. There was no reason to push the pace, no reason to work harder than needed. We could make the hike through the Tapeats along Garden Creek at a comfortable pace, stop whenever we felt a need to rest and generally take the time to enjoy being in Grand Canyon.
After choosing a campsite at Indian Garden, I took a walk up to the ranger's cabin. When she answered my knock at the front door, I explained my situation: I'd locked my keys in the vehicle at the trailhead and wanted to call my wife to ask that she meet us for lunch the next day...and bring my spare truck keys. After leaving the voice message for Alice, I returned to the campsite to work with Matthew to set up our tent and sleeping bags. After, we walked down trail with our water bucket in search of a great spot in the shade along Garden Creek. The ranger had told me about a pool near the place where Plateau Point trail crosses Garden Creek. We found it and settled in for a relaxing soak in the creek. A mother and her young daughter joined us, shortly after. We got to chatting and discovered they were set up in the camp site next to ours. Her husband and sons were off on a day hike to the river. Casual conversation filled the time as we soaked and stayed cool in the heat of the afternoon.
Later, Matthew and I attended a rattlesnake talk by the ranger. It's been years since my last rattlesnake sighting in Grand Canyon. Undoubtedly, I've passed within feet of more than a few without knowing it. And I'm in no way eager to have an up close & personal encounter, anytime soon. But they are magnificent creatures, generally misunderstood and often just as interested in avoiding direct confrontation as the people they meet. I'd like to be there when Matthew has his first encounter. After the talk, we visited the information cabin and borrowed a couple of books to read back at camp. Later, when the father and sons returned from their river hike, Matthew made new friends to play with and while away the rest of the day until dinner. It was a fine, relaxed summer afternoon at Indian Garden.
Our fourth day dawned early, and we were up before the sun to eat breakfast, break camp and get started up the trail. The 4 1/2 mile trek from Indian Garden to the trailhead is easily broken up into three stages. Each is approximately 1 1/2 miles in length with the first including an ascent along Jacob's Ladder through the Redwall. This switchbacking section of Bright Angel trail is hard work and its impact can be mitigated to some extent when tackled in the shade and relative cool of early morning. Matthew set the pace, chose the break locations and did another great job of managing the situation. We were working hard and making progress, but not overexerting ourselves or risking dehydration.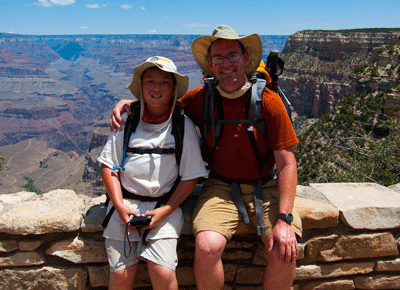 The two rest houses that divide the hike up Bright Angel evenly into 1/3's offered opportunities to rest in shade and meet new people. Most of the folks we saw were beginning their adventures and on their way into the canyon. These were folks from all over: America, Europe and Asia were all well-represented. We also revisited familiar landmarks along the way. One of my favorites is the large angular block of sandstone standing just above 2-mile corner. The underside of this rock is decorated with ancient pictographs. What was the original purpose of this handiwork? What message is delivered by the drawings? It's difficult to say. The sandstone block is visible from Indian Garden and I've often wondered if the pictographs were made simply to make a landmark along an ancient route more recognizable.

As we continued our trek upward through the Supai, Hermit, Coconino, Toroweap and Kaibab layers, our conversation turned inevitably toward food. What would we eat for lunch? Which foods have we missed the most while backpacking the Canyon? Matthew wanted meat. I wanted the same...and pie. We hiked, chatted and laughed. Meanwhile, the morning progressed and, soon enough, we arrived at the Bright Angel trailhead. We walked along the rim trail and soon connected with my Alice, who had gotten my message and brought my spare keys. Together, we walked into the Bright Angel Lodge for lunch. During the meal, Matthew and I shared stories and pictures from our just-completed hike. It was a fine reunion. We also discussed Matthew's next adventure, a trip with his mother to Washington, D.C. Just a couple of days after our hike, Matthew and Alice flew to D.C. so she could attend a client event. Alice and Matthew were going to stay a few extra days to make the trip a mother-son vacation. It would provide another opportunity for Matthew to create lifelong memories while traveling and seeing the country with one of his parents.



Bill Ferris
Flagstaff, Arizona