| | |
| --- | --- |
| | October 2, 2006 |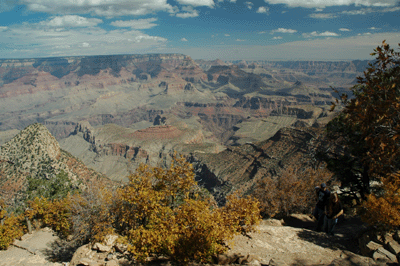 In autumn 2006 as part of my training for a late-November backpack trip in Grand Canyon, I made several short day hikes on South Rim trails to develop my canyon legs. The first, was a September 18 hike on the South Kaibab trail to Ooh Ahh point. On October 2, I did a hike along the Grandview trail toward Horseshoe Mesa. Due to time constraints--I had to be back in Flagstaff by 5:00 pm to pick up my son from school--and water concerns, I did not make it all the way to Horseshoe Mesa, which had been my goal for the hike. However, the 5-mile roundtrip hike I did complete provided just the right mix of gorgeous scenery and physical demand.

The Grandview trail follows an ancient Indian route to Horseshoe Mesa. The route was rebuilt in 1892 by prospector, Pete Berry, to improve access to his lucrative Last Chance Mine. A 2004 flash flood did significant damage to the upper portion of the trail. However, the trail has since been repaired and that work blends in quite well with Berry's improvements. The signature element of Berry's work on this route are, undoubtedly, the sections he paved with stone.

I learned a couple of valuable lessons on this hike. One; you can never have too much water. Two; I have a lot of work to do to get ready for November.

The Grandview is among the steeper trails off the South Rim. It's much steeper than either the Bright Angel or South Kaibab trails. And this factor makes hiking Grandview a real challenge for the Grand Canyon novice. After about 3/4 mile, the trail reaches a saddle offering fine views northward through Cottonwood Creek canyon and, turning to the other side of the saddle, through an unnamed drainage that connects with Hance Creek canyon. The Grandview then turns north and follows the western slope of the ridge leading to Horseshoe Mesa.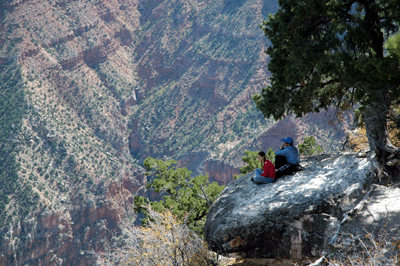 On the way down, I met a young couple who were hiking out after a multi-day backpack along the Escalante route. They had hiked down Tanner to the Colorado four days before, followed the Escalante trail to Horseshoe Mesa and were on their way out when we met. At the time, they seemed tired but in fine shape after such a long hike. About an hour later while I was hiking out, I met this couple a second time. They were resting at the saddle just before final ascent to the rim. It was during this meeting that I learned they had been rationing their water most of the day and had finally run out. They'd also not eaten anything since early morning.
Knowing how difficult the final ascent would be, I gave them half my remaining water supply--about half a liter--and made my best pace for the rim. The realization that this couple had been hiking in a dehydrated condition helped me find a second wind for the final climb. Fortunately, I met a ranger immediately upon reaching the trailhead and told him there was a couple in distress about a half-mile down the trail. The ranger collected two extra liters of water and headed down to lend assistance. Maybe it was just a novice's overreaction on my part, but I figured better safe than sorry.
The Grandview hike really kicked my backside and that gave me the motivation to intensify my training. It was work that would pay significant dividends during my first overnight backpack into Grand Canyon.

Bill Ferris
Flagstaff, Arizona